Web-seminar
Web-seminar "Project management in Cerebro: introduction course"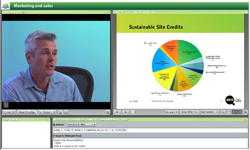 What is a Web-seminar?
A Web-seminar is a type of web conference where the participants are able to see everything the tutor is doing on his/her desktop. Apart from that all participants can ask questions online via messenger or conversation services.
In this case our Web-seminar is your opportunity to participate in a free Cerebro tutorial, find out everything about the features and particularities of our software complex.
Program
Duration – 30 minutes
Main features of Cerebro (project management, creative reviewing, file exchange).
Specifics of working in Cerebro.
Updates and innovations.
Technical requirements
Internet access;
headset and speakers;
account and installed Skype;
Windows or Mac OS X operation system for running Mikogo;
Open ports – Mikogo use ports 80 and 443;
To request a Web-seminar please use Feedback form and select "Web-seminar request"