Cinesoft, developer of Cerebro media project management complex and Wacom CIS, the representative (on the territory of Russia and CIS) of the world's leading manufacturer of pen tablets, interactive pen displays, and digital interface solutions have entered into a strategic partnership.
A first step towards mutually beneficial cooperation was the integration of Wacom pen tablets with the Cerebro media project management system to the joy of clients that appreciate convenience and comfort. The integration of these two products will give users new opportunities to realize their creative potential, plus will drastically increase the level of comfort of work with a computer.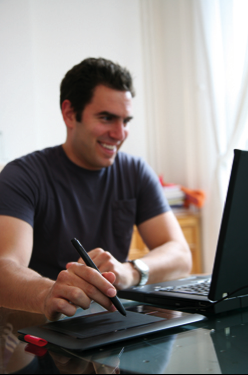 Support of Wacom pen tablets broadens the range of creative reviewing options and enables Cerebro users to adjust brush size depending on pressure level; switch to "eraser" option (turns on when pen is turned upside down); use new panning instrument (by default in Mirada (installed media player) main menu.
It is important to note that the new reviewing options are relevant not only for employees responsible for digital content creation, but for managers and decision makers, as the process of reviewing has been greatly simplified by the use of ergonomic pens. All they need to do is draw their comments on a video/image just like on a piece of paper, which is a lot easier than using a digital mouse to do the same thing or to explain the required adjustments by words.
Constantly updating and upgrading Cerebro, Cinesoft strives to create a program complex that is convenient and user-friendly for a maximum of clients.
The company constantly broadens its scope of partner programs and plans on launching a web and iPhone version of Cerebro in the nearest future.
About Wacom
Wacom – is a world leading manufacturer of pen tablets, interactive pen displays, and digital interface solutions. For over 20 years Wacom has been manufacturing and distributing innovational technologies , hardware and software solutions for professionals in the spheres of graphic design, photography, animation, 2D and 3D modeling, architectural design and also for personal use. Currently Wacom has a broad marketing and distribution network in over 150 countries around the world.
For more information please go to http://www.wacom.eu