Features
Don't get distracted from work by its organization
Presentations
---
Work anywhere
---
Desktop versions
MacOS X / Windows / Linux. Offer the best functionality.
iPhone and iPad versions
Support offline access on iOS-based devices.
Web version
Offers the fastest and easiest access to basic functions.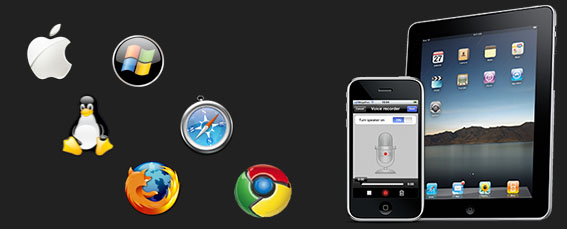 Project and Task Management
---
Project Navigation
You will be able to look through your messages in any way you like due to a wide variety of project navigation options, view changes in interest list and create your personal task list.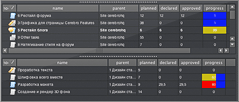 Team Work
Task setting options for an unlimited amount of employees, convenient search options.
Calendars
Personal and group calendars lay out tasks on a weekly timetable taking into account working days and hours, holidays, and even vacations, days-off or sick-leaves.
E-mail Notification
You will instantly receive an e-mail notification if there is a new report or message posted for you in Cerebro.
Messaging
Easy message management due to integrated categorization system. Cerebro allows you to set message visibility, for e.g. your clients will be able to view a limited amount of messages, except for internal correspondence.
Project Content
Cerebro allows to quickly add materials to your project or set a task: all you need to do is drag and drop the necessary video/image/file to the program window. You will also be able to clone task branches.

Budgeting
Estimate every task and count actual expenditures – that's all you need to get up-to-date financial statistics throughout all of your projects. Moreover, you can set up hour rates as for people so for the equipment. Should we mention that making breakdowns, bids and reports now means just pressing "Export to Excel" button?.
Time-planning
Cerebro automatically summarizes time expenditures and shows progress level and statistics on all project branches—save your time by counting it.
Flexible Custom Tags
Create your own tags for any project, search using any criteria. We've done the best we could to speed up your work process.
Gantt Chart
Bind the variety of project tasks into a single continuous timeline and distribute your resources. You can bind the tasks even if they belong to different projects and by resources we mean people and equipment: meeting rooms, cameras, editing or recording facilities etc.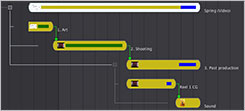 Reviewing with Mirada Standard
---

OpenGL Support and More…
Due to full support of OpenGL technology, Mirada allows viewing of high-resolution files up to 16K! Mirada also allows viewing of files with high color depth.
Supports a Wide Range of Formats
The integrated media-file viewer Mirada supports a wide range of popular graphic and office formats, like—Cineon®, DPX, OpenEXR, RAW, QuickTime® and a wide range of other office and graphic formats (not to mention AVI, JPG…)
Creative Reviews
Draw directly on video/image, create sticky-note comments. Tired of writing? Tape an audio-comment with mouse cursor movement and timeline shifting. Your review will be automatically saved and published in Cerebro.

Reviewing with Mirada Pro
---
Saves Reviews To Disk
If you wish to think twice before submitting your review to Cerebro, Mirada Pro allows you to save it as a standalone file to a user-defined folder.
Online Reviewing Sessions
If you wish to deliver your comments and get the feedback immediately, if you need to discuss the material with your colleagues, bosses or clients, you can start an online session in Mirada Pro. Up to 10 workstations can be connected to a single session. Your counterparts wil see how you draw, move your mouse, shift the timeline and zoom / pan the picture or video. And they can take the floor too, if needed!
Stereoscopic 3D
Mirada Pro supports a variety of stereoscopic 3D formats based on anaglyph, polarization or NVIDIA 3DVision Pro shutter technology. So you can not only draw your comments over a stereoscopic picture or video but also adjust the parallax of your comments!
Color Grading
Would you like to adjust the colors in the picture you see? Mirada Pro allows to grade the colors of the pictures and videos by Gamma and Gain. If needed, the colors can be switched from Logarithmic to Linear.

File Exchange
---
Automatic Archiving
Attach files of any size or whole directories to your messages by simple "drag and drop". They instantly become visible to other users. You can also create links for local resources.

Goodbye FTP!
The integrated Cargador module for file exchange will rid you of the tiresome FTP logins and passwords and take care of file delivery.
Records and Control
Control your company download and upload queues. Auto and manual restart of uploads and downloads.

No Doubles
All downloaded files are cashed, and are never doubled.
Safety & Statistics
---
Access Levels
Set access levels using roles (Administrator, Producer, Project manager, User, Client), or using project levels (e.g. access to a level, task or group of tasks). Create groups of users and group management of access rights.
Statistics on Projects and Users
Cerebro offers statistics on the project as a whole, details on specific users — quick salary calculation based on time expenditure figures for users or groups of users.

Export
Export project data and user info with set level of details into Excel® (with thumbnails) or CSV files.
Customization And Integration with SDK (Python API)
---
SDK allows you developing of new custom functions for the system that are not available in the standard version, also to automate interaction between Cerebro and other software, that is used in the pipeline in your studio.
SDK consists of two global parts: Client API and Server API.
Server API is used to gain access to the database. In an automatic mode it allows to create/edit database entries, for example, tasks and messages, and also it allows adding new files and links to the system.

Client API allows adding new items to the main and context menus of the Navigator and Forum. With the help of Client API you can launch various scripts in response to the user actions or the system events, and thus automate routine operations and control functions, for example, checking names or types of files being uploaded to the system, etc.