We gladly inform you that we've implemented Zendesk technical support portal. Its URL is http://cinesoft.zendesk.com
There you'll find docs and manuals and an easier and more efficient way for bug reporting. For example, an e-mail message sent to support@cinesoft.ru automatically creates a new ticket in Zendesk.
We've made a decision to close all duplicating communication channels for our tech support team:
–  Forum + User Echo Forum on Cerebro website,
– Cerebro for Clients thread within Cerebro itself.
We shall gradually move all the information that has been accumulated there to Zendesk.
The portal interface: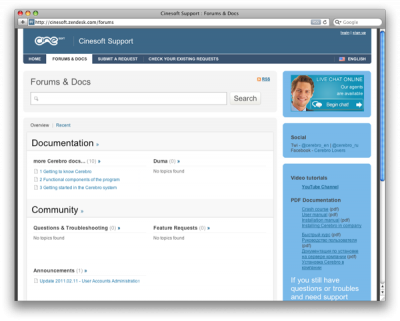 Besides, we've implemented a new much more convenient LiveChat system in Cerebro website – the best way to contact us!
You'll find the link to the LiveChat in the upper right corner of every webpage.