We are glad to inform you that the long-waited Mirada Pro Player beta testing is opened! Mirada Pro not only displays pics and video in stereoscopic 3d mode but gives you a unique tool for drawing and typing comments over it. Parallax adjustable comments!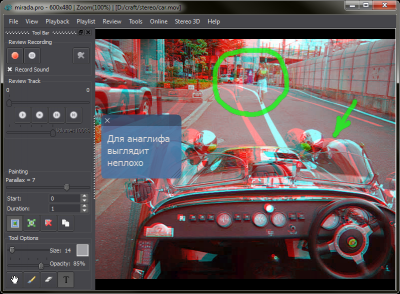 If you wish to take part in beta testing you'll need the following :
Windows or Linux-based OS 32 / 64 bit or Mac Os X (10.5 – 10.6)
Some equipment to watch steroscopic 3D, either anaglyph red-cyan eyeglasses and any nVidia/Ati/Intel graphic controller, or a 3D Vision kit and an nVidia Quadro series graphic controller plus a 120 Hz monitor with 3D support.
Steps to be made:
Sign up to Cerebro demo version if you don't have a Cerebro account
Download and install Cerebro desktop client if you don't have it
Download the zip archive (26 Mb) with Mirada Pro (Win / Linux 32|64 / Mac Os X)
Save a reserve copy of the current Mirada binary file (for ex. win mirada.exe located in Cerebro folder)
Unpack the downloaded archive and replace the default Mirada binary file with Mirada Pro.
Read Mirada Pro stereo mode user manual  here.
Important: Mirada Pro beta license is valid till May 13, 2011!
Soon you'll be able to purchase Mirada Pro for a small fee.
We'll be glad to get your feedback here or on our Tech Support portal: http://cinesoft.zendesk.com