The web version of Cerebro was developed specially for users that like a change of scene :), or, in other words, do not work on one computer. It can also come in handy for your clients that don't have the opportunity to install the Cerebro Desktop Client version. We plan on launching Cerebro Web in April 2010.
Soon you will no longer need to install Cerebro locally. If you have Internet access, your login and password – welcome aboard! Access your Cerebro account from any computer.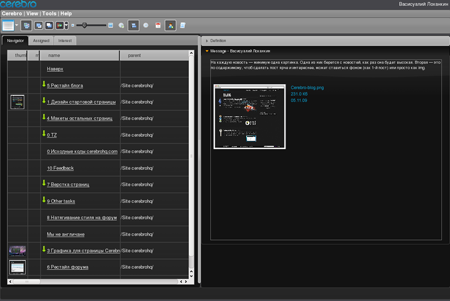 Main functions:
view task tree;
view assigned and interest task lists;
view messages and comments;
create tasks and assign users for tasks;
download and upload files;
create tasks, reports and comments to them;
view attached images.
Cerebro Web version requirements:
Internet browsers:  Internet Explorer 8 and later versions, Mozilla Firefox 3 and later versions, Opera 10 and later versions, Safari 3 and later versions, Google Chrome 4 and later versions *
enabled Cookies и JavaScript
Internet access
(Web version limits– administrator panel inaccessible, not possible to create and view file comments, no audiovisual reviewing options)
*Proper work of the application in other browser versions and in other browsers can not be guaranteed.