Interface in Russian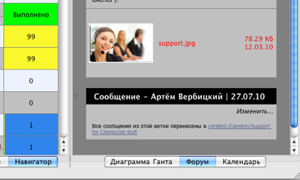 Now in the desktop client you can switch the interface language to Russian.
IPhone and Web versions also have this option:
– For IPhone/IPad versions: just change the system regional settings
– For Web version: go to menu Language -> Русский
Interactive unread messages notifications
If you have unread messages in Cerebro:

– the icon in the system tray displays the number of unread messages
– an alert bubble with task title appears on the desktop, a click on the bubble redirects you to the message in Cerebro
– a click on the icon in the system tray redirects you to the first unread message in Cerebro
Also now after you click on Close Window button you have an option: hide Cerebro into system tray or close the application.
Saving windows configuration
You can save your current working area configuration as a preset in the menu View/ State Docks. Also there you can reset it to default settings if needed.
Bug Fixes
– Task creation/change date and time are displayed differently according to user's local time zone settings
– Forum threads can be scrolled by touchpad in Mac OS X
Coming up in the next vesion
– Finance: task budgeting, equipment rental rates and usage reports
– A new access level – "Producer"
– Simultaneous settings change for a group of selected tasks
– National holidays and individual vacations, leaves and days-off influencing common Gantt diagram
More information here