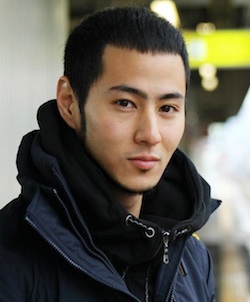 Today Konstantin Kharitonov talks with Hideki Kawata, CG artist at Transparent House.
KK: Can you introduce briefly yourself, your company, the history of the company?
HK: Okay, first—history of the company. Transparent House was founded in 2004. They started out as a design visualization firm, creating photorealistic 3-D architectural renderings and animated walk-throughs of commercial and residential buildings. As they gained more popularity, they expanded into 3-D product visualizations, videos for campaigns, and keynotes. As for myself, I joined Transparent House about a year ago to push my creativity to the next level. My background comes from product design where I used to design energy-efficient lighting fixtures for the consumer and commercial market. After two years in lighting, I decided to go back to graduate school to obtain my master's degree in Italy and then came back to the US to join a start-up in the gaming industry.
KK: You worked in the gaming industry in the USA, right?
HK: Yes, I worked in Palo Alto and the Silicon Valley for almost three years developing mobile and social games that utilize 3-D environments and assets.
KK: Right now, what is your occupation? What do you do in your work?
HK: I specialize in 3-D modeling, materials, textures, rendering, preparation for animations, and development for our interactive applications. Lately, we have been doing a lot of interesting Unity and Oculus rift development, pushing our 3-D work to further immersive stage. It's great here because Denis gives our team the opportunity to push our creativity and technical skills.
KK: What about clients? What type of clients do you and your company have?
HK: We have a broad range of clients. It could be from start-ups to Fortune 500 companies that include large architectural firms like Gensler, Perkins+Will, big consumer electronics companies like HP. We really touch on every spectrum.
KK: What type of works do you create? It's not only architectural stuff? It's product stuff, what else?
HK: We create virtual tours, animations, marketing videos, teasers, branding assets, motion graphics, and graphic design solutions. We just recently worked on a very large, upscale residential property called One Rincon Hill Tower 2, located in the heart of San Francisco. We needed a practical and effective production management tool and this is where Cerebro greatly came into play.
KK: Can you mention names of recent projects? If it's not under NDAs, maybe two or three.
HK: For properties, the two largest projects we worked on over the past year were the One Rincon Hill Tower 2 residences and Lennar Urban's Hunter's Point shipyard project. Lennar is currently developing a large-scale residential community with over 1,000 homes near Candle Stick and SFO located in a beautiful area surrounded by water and we generated a broad spectrum of products for them including renderings, animation, leasing applications, and virtual tours. For products, we continue to work with HP to delivery high-end animations and product tours for their marketing needs.
KK: Can you describe, for example, one project with more specifics and maybe in these projects you use Cerebro and can you describe problems on this project, maybe some challenges, how you create? Can you explain more specific?
HK: Cerebro was a great asset when it came to keeping the One Rincon Hill Tower 2 project on track. During the entire three months of production, we worked with our Moscow team and a team in the UK to generate 3-D assets, live shootings with green screen, and take aerial helicopter footage. The challenge was to keep the entire production organized and make sure that all tasks were assigned to the correct people. Cerebro really helped us greatly because we were able to assign tasks, put things on a time line, visually see progress, were able to immediately access production files and provide real-time feedback with effective communication. Using platforms like Basecamp, Excel, or Google documents just wouldn't suffice.
KK: How many people work on these projects?
HK: I would say about ten people internally and about ten people externally, so in total about twenty people in production.
KK: And all people will be only in USA or maybe in Russia?
HK: I'd say about 50 percent is in the States, the other half is in Europe.
KK: How many objects, assets do you create?
HK: We've had about seventy cuts in the marketing video, a ton of RED Raw footage, Go Pro footage, six virtual tours, fifteen still renderings, four time-lapse videos, and a good amount of branding assets to be used for the leasing efforts.
KK: What was the duration of the projects?
HK: The duration of a project is about three months.
Tower Two at One Rincon Hill: Official Teaser Video
KK: What is the typical duration of the projects? Do you work only on short projects, or long?
HK: This really depends on the client. Most of our clients come in for two- to three-week turnarounds while others like One Rincon Hill Tower 2 can end up to be a long partnership of work. The original project duration was three months but they ended up liking our work so much we're still working with them right now to help with their leasing campaign and this pushes the collaboration to over six months. With Lennar Urban, we have been working with them for several years now.
KK: Right now you use both systems, not only Cerebro, you use Basecamp for small projects. How do you separate pipelines?
HK: For projects that are about two to three weeks long we tend to stick to Basecamp, just because it's more client-friendly, more straightforward, they're more used to the type of communications that take place in Basecamp. However, for larger projects extending into several months with a large number of assets, we will definitely use Cerebro because the tools allow us to assign, track, comment, and keep files for immediate access. This is essential to keeping production smooth with our Moscow team.
KK: Can you be more specific about what type of tools you use in Cerebro? I mean voice, maybe you type tool in Cerebro?
HK: For me it's usually review notes, create a report, I check status, I update status. Sometimes I use the markup tool to make internal and client-based comments, which is really useful and fast, but not so much voice. Or motion designer Eduard puts it to more use than myself.
KK: It's okay, voice is better for animation. You mostly use something like markups. I understand, because you need to put specific marks, like in this corner, or in that corner.
HK: It's great because you can use Cerebro to create internal review and markups for our production team and those markups we can use for client-facing as well, which we post at Basecamp. It's actually a tool that we use to optimize the production efforts between the clients on Basecamp, so it's useful in both ways.
KK: What was the first project in Cerebro?
HK: The first project was One Rincon Hill Tower 2 for us. Now we use it for some of our internal projects as well.
KK: How much time do you spend after you decide that Cerebro is good for this? How much time do you spend before you decide if it's good?
HK: First of all, using Basecamp and Google Docs is not very visual so the instant I tested Cerebro out, the response was good. It's hard to beat the set of tools you have created so far.
KK: I mean, how much times do you spend to understand that this stuff is good?
HK: Maximum, a few hours.
KK: I mean implementing it in your company, so that not only you would understand it, but also the other people?
HK: For the Moscow office, they didn't like change so much, so it took them awhile, but once they started to understand how easily things were accessible, how communication was much more simplified, they were happier with it. For Transparent House, I'd say it took about two weeks to make the transition. We just had to accept the challenge. For us internally, when Eduard our Motion Designer recommended it, and the instant I tried it, I knew this was a solution to our problems, so we picked it up in a few days. We set up the project here in our San Francisco office and then shared it with the production team in Moscow.
KK: Do you have any problems when planning with Cerebro?
HK: In terms of pipeline, it only helps. With Moscow it may be an issue with the network setup, but they are having issues of downloading, at times it can be very slow.
KK: We will definitely fix this problem. We work very hard to create fast protocol with many sessions, and many connections, and right now I'm sure we have a very high speed. We tested already in Moscow.
HK: At the time, when we first started, there were some issues with speed and huge files when downloading for our Moscow team but my understanding is that this issue is already resolved. As long as the system is smooth and fast, anybody can use it. The problem is the people and their mind-set. If the managers in Moscow don't want to change what they're comfortable with, then they are going to be like 'Oh no, I don't know, we don't have time to learn new software.' All they have to do is take a few hours to try the software and soon they will realize how much the software will help with their project management.
KK: The last question: do you have something like improvement recommendations, what you want to improve? Right now we are working under digital assets, it is an important part to any production, we create asset management. It will be a little strange, asset management, because it will be not only manual-shot/scene asset management, it will be auto-video/photo-reference asset management as well. Do you have another suggestion? What do you want to improve?
HK: One thing, when you work with 3-D, you create many versions of files. The more versions you upload, of course, it's more data that you have to maintain. It would be nice if Cerebro could have some kind of tool that could remove old files automatically based on version control. It could keep the latest three versions of a file saved on the server while the older ones are removed. That way, you could keep the system more optimal and simplified for artists that need to access work files. That's one suggestion I think might help. Another one is in the Mirada Viewer to be able to have some vector markup tools, where you can draw some straight arrows and have callout boxes for text input.
KK: Something like arrows, circles?
HK: Yes. By the way, what about view and markup on top of PDF files?
KK: Yes, it's possible. Right now only on Mac version, you can open PDF files. Actually, you can create markups in pages like frame in movies and save it. But it works only on Macs, because Mac OS X has QT API. We are working under implementation for Windows, Linux. I think it will be our next step. Right now, we are working hard under all Mirada for more stable version and faster for playing 2K–4K video.
I think we are done for today, thank you for your time!
HP Z Turbo Animation