Cerebro iPhone version 1.0. was developed specially for users that are  constantly on the move but still need to keep in touch. We're sending out the application to Apple for approval, so keep your fingers crossed!  🙂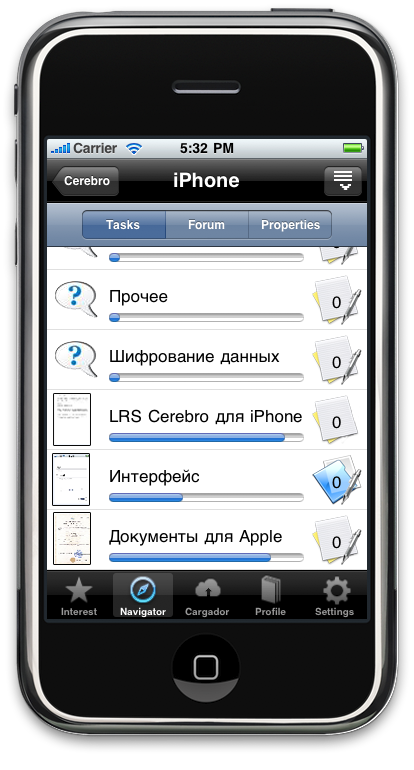 Main functions:
work offline!
view task tree;
view assigned and interest task lists;
view messages and comments;
create tasks and assign users to tasks;
download and upload files;
create tasks, reports and comments to them;
view attached images.
Cerebro iPhone 1.0. version requirements:
iPhone firmware 3.0. and later versions;
supports  iPhone (2G,3G, 3GS), iPod Touch (2,3 generations);
Internet connection.
(iPhone version 1.0. limits– administrator panel inaccessible, not possible to create and view visual file comments)

Installation:

To install the application on your iPhone or iPod Touch you will need to register in the iTunes Store.

If you have an iTunes account, you will be able to install the  Cerebro iPhone ver.1.0. application through your computer. You will need to register in iTunes via Internet.

You can download the installation package here: http://www.apple.com/itunes/download/

Please note that the application works on devices with 3.0 firmware and later versions. You can upgrade firmware through your computer using  iTunes.

You need Cerebro  login and password.

Important!

The Cerebro iPhone ver.1.0 is a FREE application. After installation you will not be charged any money from your iTunes account.

Tags: