Web-seminar (Webinar) "Cerebro introduction course"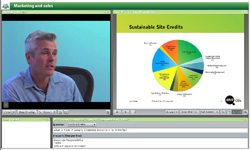 What is a Web-seminar?
A Web-seminar is a type of web conference where the participants are able to see everything the tutor is doing on his/her desktop. Apart from that all participants can ask questions online via messenger or conversation services. Duration – 30 minutes.
To request a Web-seminar please use Feedback form and select "Web-seminar request"
More information about Web-seminar
Help with Cerebro installation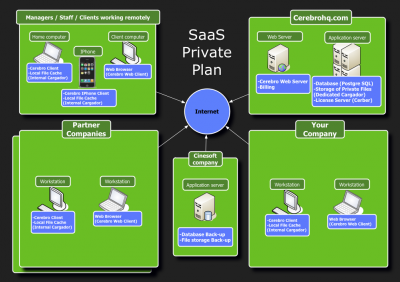 Schemes explaining how various versions of Cerebro work.

SaaS Private / SaaS studio / Installed (click for enlarge)

Information on your tasks, messages, links, etc. is all stored on a central database, whereas files are usually stored in different places and are downloaded when necessary from external websites and sources. This can be your local network, if you are out of the office, the network of your partner companies, if you are working on one project, various internet sites etc.The internal Cargador module is a service responsible for file delivery in Cerebro, that allows you to exchange documents/videos/images etc. of any size at a rather high speed.
For help in remote installation, please fill in feedback form and choose "need help in installation" option
More about installation

Tags: