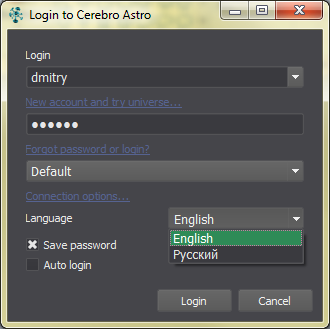 You may select the UI language Cerebro directly at login screen.
You may choose avatar display option to show them (the menu Cerebro Astro – Settings – Display Settings):
– on the left, center or right of the message header
– or disable altogether.
There is a new export Review option appear in MiradaPro (menu Review / Export Track to MOV). You may save Review track with voice comments in separate QuicktTme MOV file. The feature available on Windows and MacOS platforms. (Windows: Unknown problem was detected when export file targeted to Desktop)
Corrections to the server component:
module Sirena was updated. File deletion error was fixed.
Bug Fix in Cerebro:
The First Steps Wizard assigns default file storage for a new project immediately. This will eliminate "Site list is empty" error message.
Bug Fix in Mirada:
Saving of long (more than 3 minutes) reviews was fixed. They are correctly stored and shipped in Cerebro now.
More information here.